Combining Irish music, charisma, and a ghost's unfinished business made it feel like Fall.

Many ghosts have unfinished business. It's a well-known trope in murder mysteries, and Haunted Harmony Mysteries: Murder in G Major expanded on it with detailed characters and picturesque Irish charm.

I was as captivated by the Irish scenery and music as I was trying to solve the mystery, and I love murder mysteries.

Tamera Mowry-Housley was delightful as the lead character, a former orchestra conductor Gethsemane Brown. She's easily charmed by Ireland and the tales surrounding Orla and Eamon's deaths, but she insists that ghosts don't bother her.

She tries to blow off her first encounter with the ghost Eamon McCarthy as a coincidence or a hallucination because if she actually saw him, there might be something wrong with her. Her dad saw visions, and they all pretended he didn't.

The film never covered any of Gethsemane's other family, except that she was closest to her dad. They shared a love of music and the ability to speak to the paranormal. It made sense that she was the one who cracked Eamon's musical code.

Eamon McCarthy (Risteárd Cooper) was witty and likable, but he was also earnest and sad since he had been blamed for his girlfriend Orla's murder and was determined to prove his innocence.
Please, I just want to my girl again, and the only way I can is to figure this out.

Eamon

Their story reminded me of a modern Romeo & Juliet since he accidentally drank poisoned wine upon finding Orla's body. Unfortunately, he hadn't been reunited with his soulmate since he had unfinished business.
Love makes the world go round, but whisky makes it go twice as fast, especially when it's been poisoned.

Eamon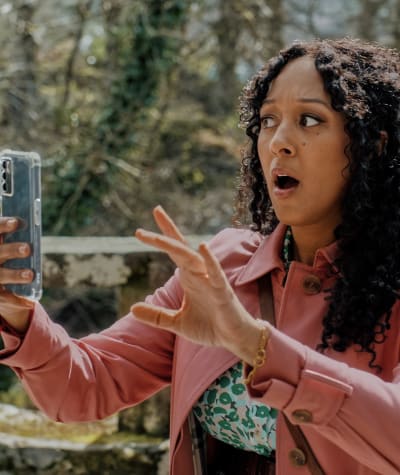 While Gethsemane was a reluctant participant, she agreed to help Eamon uncover the truth. It was easy to discover that he was set up, but not as easy to prove who the real suspect was.

Only she could talk to people, and another officer, Declan, wanted the accident files to stay hidden.

Eamon had never had any problems with Declan or anyone else, so he didn't know Declan would have poisoned him.

While some locals would dish gossip to Gethsemane, others feared she was a reporter digging into an unwanted secret. This made her more determined to help Eamon.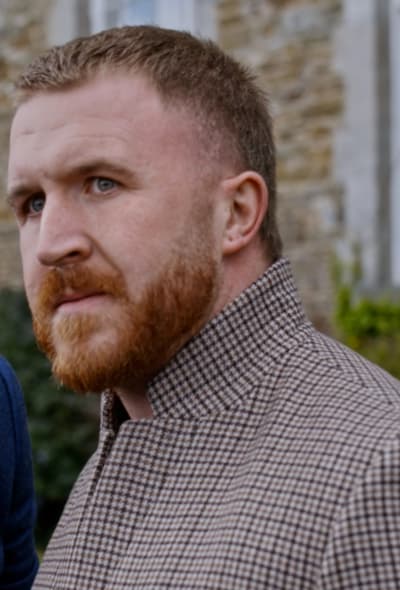 Everyone in a small Irish town was connected, and everyone was connected. Initially, it seemed like Billy, Eamon's nephew, and Seamus, his friend, could be trusted.

Soon after, they appeared shady and involved in burglaries, but Eamon couldn't believe they'd hurt Orla.

That was family. It was just as devastating thinking that Orla's best friend, Deidre, would strangle her after she'd been fired.

So many people loved Orla, yet the suspects kept adding up, and people wanted to shut Gethsemane up.

No one would have guessed Dr. Elizabeth was the killer when so much evidence pointed to Declan, Seamus, and Billy. However, part of me suspected her. Besides Eamon, she would've been the only one with that musical ringtone Rion identified.

Women hate being scorned for a man's new lover, even if she is a friend. They hate it even more when they become a buddy and are suddenly part of the "friend" trio.

Something about Dr. Elizabeth never felt right when discussing Eamon and Orla. She was obsessed with Eamon and considered Gethsemane's sightings of Eamon easy access to the case.

Dr. Elizabeth couldn't break Eamon and Orla's bond, though. She tried, but he only had eyes for Orla, and when the ghostly couple reunited after the murder was solved, you could tell they were eternal soulmates.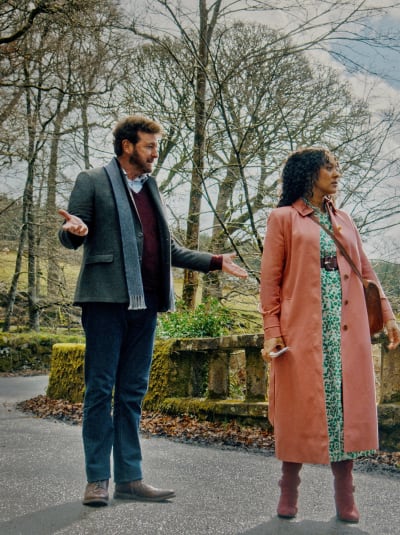 Eamon and Gethsemane's banter throughout the film was one of the best parts.

He encouraged her to tap into her paranormal abilities, and she encouraged him to write his first song since Orla died.

They helped each other find passion and meaning in their lives again.
Eamon: You can always concentrate on what you don't want to do, so always go for the dream. That's where the passion is. Teaching or performing, whatever.
Gethsemane: As soon as I pull myself out of a murder investigation, I'll take advice from a dead person on the top of my list.

It meant so much to Gethsemane to hear that both her father and Eamon were proud of her. Will that give her the push she needs to pursue love?

Hallmark Movies and Mysteries does a fantastic job of melding mystery and romance. Inspector O'Reilly and Gethsemane reminded me of Detective Mike and Hannah from the Hannah Swenson Mysteries since Gethsemane was just as determined to solve the case.

Gethsemane kept finding clues about Orla's murder and showing up at new crime scenes when Inspector O'Reilly wanted her to leave things to the professionals for her own safety.

He met with her to humor her and prove he took her seriously, which sounded condescending and charming simultaneously. He meant well since she didn't solve crimes, but her detective skills were just as talented as his.

Every time Gethsemane found a clue, she also found more trouble, such as finding Eamon's house ransacked. It only proved Inspector O'Reilly's point that she needed to stop asking questions, or she could become seriously injured.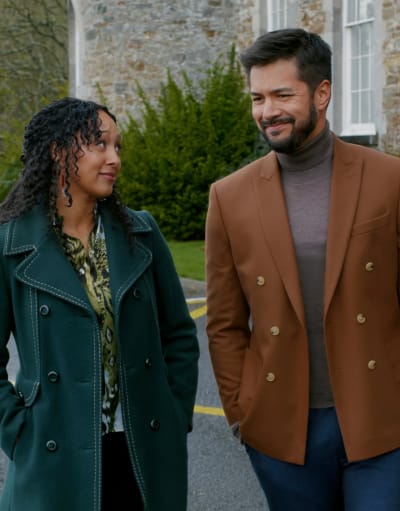 I also enjoyed the love triangle since both men were viable options and protective of Gethsemane. While I preferred her solving cases and awkward flirting with Inspector O'Reilly, Griff was a wonderful person, too.

He encouraged her to teach her students in different ways and embrace the Irish culture, which helped bring out the beauty of the music.

The two men kept showing up at the same time and soon realized they liked the same woman, such as when Griff protected her from Seamus and Inspector O'Reilly arrived immediately after to arrest Seamus. They both wanted to be her knight in shining armor.

Nothing was more awkward and charming than when they both presented Gethsemane with flowers after she conducted her first choir performance and won a trophy. How will she choose?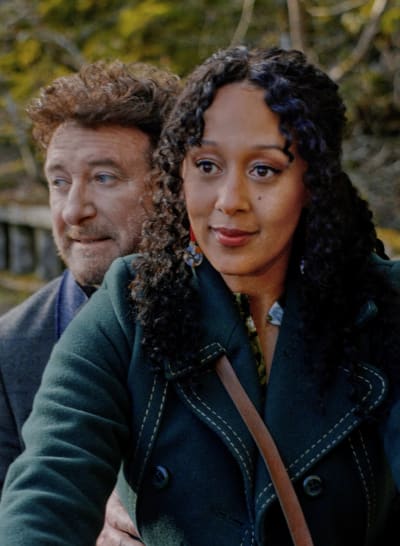 Since "Haunted Harmony Mysteries: Murder in G Major" was adapted from the first book in the Gethsemane Brown Mysteries Book Series, we suspect there'll be additional films, but that hasn't been announced yet.

We'd love to see her team up, solve more mysteries with her ghostly friend and Inspector O'Reilly, and see where the love triangle leads.

Now that you've read my opinion, what were your thoughts on this murder mystery? Would you like to see a sequel? Were you team Griff or Inspector O'Reilly?

Share your thoughts below.
Laura Nowak is a staff writer for TV Fanatic. Follow her on Twitter.