Stevie Wonder and Smokey Robinson made a legendary appearance at the 65th Grammy Awards on Sunday night (Feb. 5).
The music icons, backed by emerging R&B group WanMor and country singer Chris Stapleton, performed a few of their hits.
Following an introduction by Billy Crystal, Wonder opened the set with The Temptations' "The Way You Do The Things You Do," which Robinson co-wrote with Robert Rogers.
WanMor, the new R&B quartet signed to Mary J. Blige's Beautiful Life Productions, joined Wonder and even showed off their slick dance moves. 
Robinson entered the stage to perform "Tears of a Clown," which he co-wrote with Wonder and Hank Cosby.
Wonder, with backup from Stapleton, took it home with "Higher Ground" from his Grammy-winning album, Innervisions. 
The joyous performance was in tribute to Berry Gordy and Robinson who received the MusicCares Persons of the Year award earlier this week.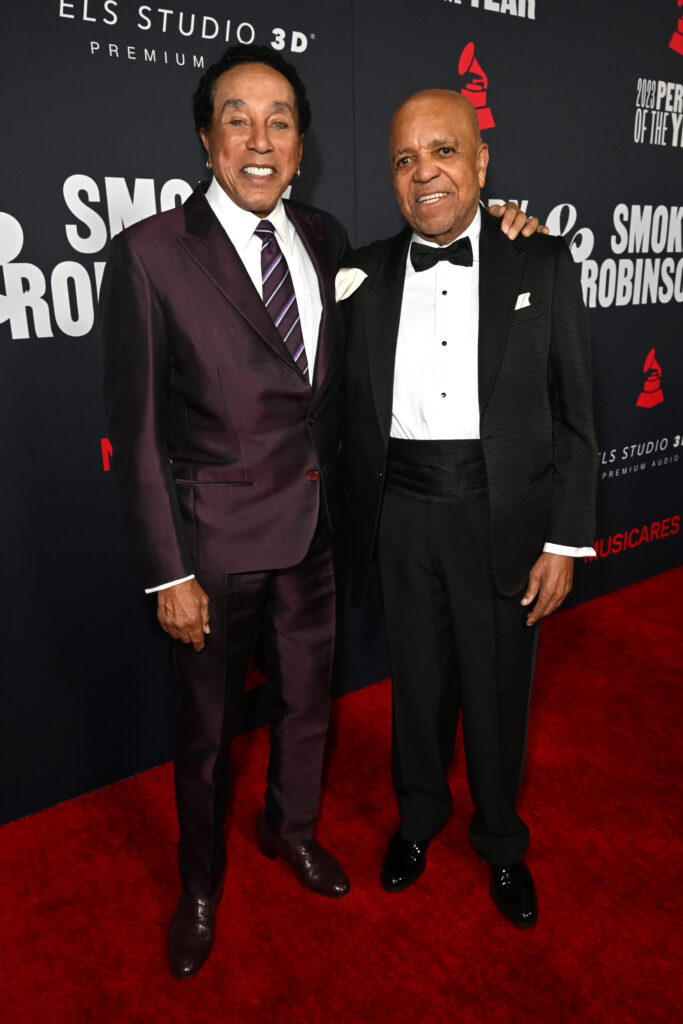 "Wow! How honored I am to be named the MusiCares Persons of the Year, and together with my best friend of over 65 years, the great Smokey Robinson. How special is that!" said Gordy. "I am grateful to be included in MusiCares' remarkable history of music icons. The work they do is so critical to the well-being of our music community, and I look forward to a most exciting evening."
Robinson added, "I have supported MusiCares for many years and know what great work they do for our creative community who need our help. Recently, when no one could tour, they were a lifeline to those in the touring industry for monetary help and mental health services. I am honored that they have chosen me and my best friend and Motown founder Berry Gordy to share this beautiful honor and celebrate with you all together."
In other news, Robinson will release his new album, Gasms, on April 28. The nine-track project will include the lead single, "If We Don't Have Each Other," released last month.
The title and tracklist of Gasms sparked conversations across social media, something Robinson had intended.
"I want to be controversial. Let 'em talk about it," Robinson told E! News on the Grammys red carpet. "Gasms is a curious kind of title and people have been talking about it. And what you don't realize is that when you say 'gasms,' most people think of orgasm but gasm is any good feeling you might have.
Watch Stevie Wonder and Smokey Robinson's Grammy performance featuring WanMor and Chris Stapleton below.
Smokey Robinson & Stevie Wonder's performance at the Grammys was just👌🏾 The fact that these guys are 72 & 82 and delivering a performance like that!!! Living legends & we're so lucky to have them 😮‍💨 pic.twitter.com/4fdoXk1a8v

— Victoria Jane (@__victoriajane) February 6, 2023