"I literally feel like I delivered a baby," Naomi Raine tells Rated R&B over the phone. It's the release day of her debut solo album, Journey, and the Grammy-winning vocalist is relieved to have it out. "After you deliver a baby, usually you get to hold them in your arms. I feel like now I'm able to enjoy it and not feel the pressure of the release."
Raine, also a member of the collective Maverick City Music, originally conceived the idea to record Journey back in 2016. It was around the time she started working on her worship project, Back to Eden, which was ultimately released in 2019. At the time, Raine was looking to release it as a double album with Journey. "It took longer to release Journey than I wanted, but I made sure to take my time and do the work that was necessary," she shares.
Raine spent the early part of this year recording Journey, which resulted in 15 songs and seven interludes that are referred to as car chats on the album. Journey is a compilation of some of Raine's innermost thoughts inspired by her trials and tribulations. On the album, she examines mental health, motherhood, and the ebbs and flows of marriage, among other topics.
"I think I was just struggling from the transition of letting go of the old and being there for the new," Raine shares of the album's inspiration. "I went through some depression and just the stuff of life."
Instead of being ashamed of life's adversities, Raine was empowered to embrace them through song. "Coming from the church, there's like a shame in struggle. I wanted to push at that some and say, 'Wait, why are we ashamed to be human? Why are we ashamed to struggle? Why are we ashamed to have emotions?' I think there's a way for us to walk through this stuff, be honest and vulnerable. That's one of the keys to freedom, healing, peace, growth and change," says Raine."
In May, Raine released "Not Ready" as the lead single from Journey. Here, she details her battle with accepting personal change.
"I know I need to pray, but I don't know how to say / I'm not ready, I'm not ready to change," she sings over a hip-hop-influenced production. Raise was compelled to share "Not Ready" as the lead single because it "felt like the culmination of the whole project and why the project started."
Of the song, she notes, "It was from the space of, 'I'm gonna surrender to God. I don't know what I should do. I don't even wanna do what I probably should do, but I'm just gonna get what I need from Him.' I think that that is one of the biggest messages of the project. God wants to know how we feel. It's okay to pray and it's okay to seek Him, even if you're not ready to do all the things you think he's gonna ask you to do."
In Rated R&B's interview with Naomi Raine, the singer/songwriter dives into more songs from Journey, shares R&B singers who have inspired her, teases an upcoming solo tour and more.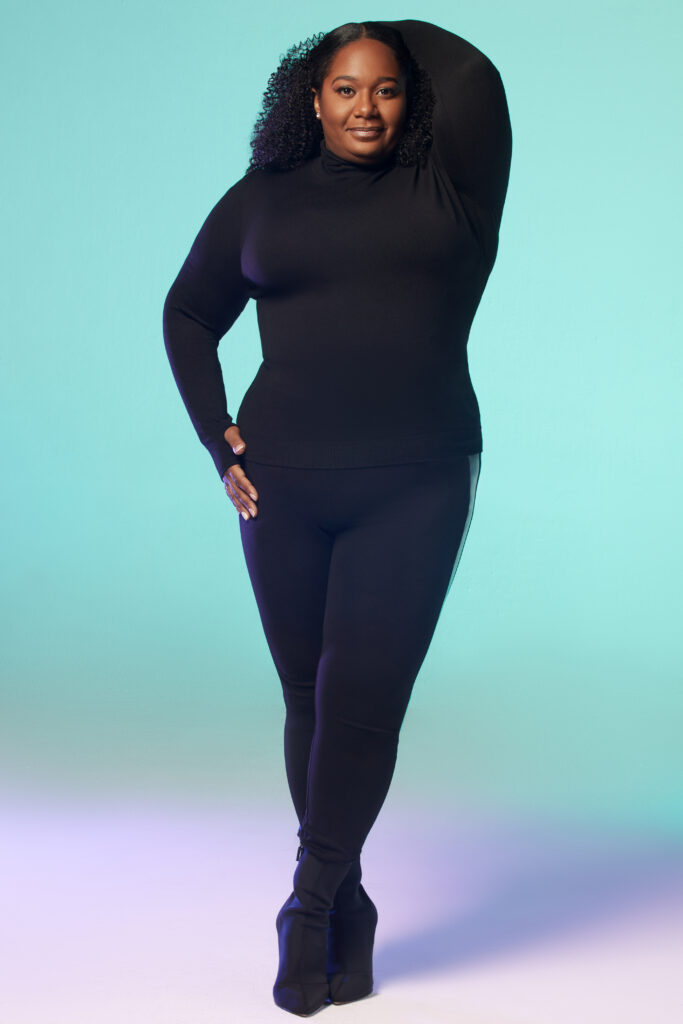 Your debut album arrived just weeks after Maverick City Music's Kingdom Book One. How did you balance working on the two albums?
That was definitely a feat. I'm a workhorse. I work hard and I don't stop until I get what I want. I'll be honest, it took longer to release Journey than I wanted, but I made sure to take my time and do the work that was necessary for me to get both done. This was a moment I had to carve out some time to do what I felt was a personal message from me.
"Paper Plates" is an interesting way to describe dealing with burdens. What's the story behind that song?
I was at lunch with some friends at a venue. I noticed that they had brought out real dishes to eat the food on. I was wondering, "Why didn't they just grab some paper plates, so that when we [are] done, we can get outta here?" I was like, "What is going on?" I realized some people prefer to eat on real plates. I'm like, "Oh, I'm different. I'm the one who prefers the convenience and the ease of paper plates."
I was on an airplane. I started to look at my life like, "Oh wow, Naomi. You really prefer convenience and life is not all easy. Maybe you're struggling in some areas of your life because you're not willing to do the difficult thing that takes more work. If you keep going for convenience, yeah, it'll be easy, but the quality of your life will be less." So, I sat on that airplane and started writing that song. I got home and worked that whole day on laying down tracks and vocals.
"Hold On" featuring Brik.Liam chronicles a rough patch in a relationship. What inspired this song?
When I wrote it, I was listening to a couple that I knew argue. I started to think about what I would have said to my husband if I were in that situation. I would wanna go in the car, open the moonroof, look up into the stars and dream about our future. I thought about how easily we give up on relationships — or things that matter — and forget the promises God has made to us. It's really a song saying, "I don't know what kind of fights we're gonna get into. I don't know what we're gonna face in the future, but I'm just asking you to hold on. We might not be great, but if we hold on, we're gonna make it."
"World on Fire" featuring Ryan Avery seems to echo the events we've experienced over the last couple of years. What was your thought process when writing it?
"World on Fire" is about my perspective during the pandemic. It starts outside, then it goes inside and my world is on fire because there was so much going on. Many of us were stuck inside our houses supposedly being protected from the outside. Many of us were with family — and family is great — but sometimes it gets a little interesting when you don't wanna be stuck inside. Some people were stuck inside by themselves. I feel like we all had to deal with what it meant to be lonely and what it meant to be by yourself to know yourself — to know your family — and deal with the pain of a pandemic and all the stuff that was happening.
"World on Fire" is when they started to set things on fire when there were protests and all of that. I think some of us just automatically think, "Oh, you shouldn't set things on fire." I started to question it. I don't have all the answers but I'm just saying maybe it's not bad to set things on fire and start again. Maybe, that's the way you get people's attention. Maybe that's [how] we change things and get out of where we are now. It's like a think piece about that time during the pandemic.
What was your intent with "Choosing Myself"?
I think that's my favorite song. "Choosing Myself" is about me. I'm literally talking to myself. I've had a few moments in my life where I've stood in the mirror and looked myself in the eyes. I've had those moments and feeling like, "This is who you are. This is the truth." I had to face it. That song is about the conversation with the girl in the mirror telling me to choose myself and not keep pretending to be somebody I'm not.
Mali Music makes an appearance on "Like You ($u!€!d£)." How did that song come about?
"Like You" is a song that I wrote for the Lord. It's basically like, "I wanna love you until I kill off the things in me that wanna do the wrong thing, not honor, love or serve you." It's a song of surrender. It's saying my insecurities [have] to go. That's stuff I wanna kill off as an act of love to God, not because I'm afraid that he won't love me or accept me, but because I love and want to be like Him.

Journey includes seven car chats that are interludes that help thread the album together. What motivated you to include these nuggets on the project?
I realized some of the most valuable moments that I would have in a day were those little moments where we were talking. I was talking to my friends or sometimes, let's be honest, talking to myself (laughs) about real stuff. I remember listening to albums like The Miseducation of Lauryn Hill and those moments of them talking added so much clarity and context to the songs that I grew to learn, know, and love. I wanted to give that to people listening to the music so that they didn't have to guess.
You mentioned Lauryn Hill. Are there any other R&B singers who influenced you in any way?
Yes, definitely. Brandy is number one on my list. All day, every day. She inspired me vocally and even with her passion — how she delivers her songs is so real. Luther Vandross, Anita Baker, Mary J. Blige, Whitney Houston [and] Mariah Carey. Those are artists that have shaped me and informed me. I grew up with these voices. Mariah is a dope writer. People don't even give her the credit she's due. She was telling stories through her songs from the beginning.
What's one thing you hope listeners will take away from Journey?
I hope they get that God loves us. He's okay with us being honest. That honesty is the journey. I think a lot of us pretend because we wanna please people, but I don't think pleasing people should be the goal. We should be pleasing our creator. I think our creator is more okay with our humanity and the truth of who we actually are than even we are. I also hope they become self-aware and be okay to take the journey that God has us all on.
With your debut album out, what's another thing you're looking forward to this year?
I'm hoping and planning to go on tour in October. I think that will be really fun to sing some of these songs. I'll be doing a coffee chat in Dallas, LA and Chicago. If anybody's interested in coming out to those, we get to talk about stuff in real-time in a room together, sipping on some coffee.
Stream Naomi Raine's debut album Journey below.