Front + Center is Rated R&B's artist discovery series, putting new and emerging R&B singers at the center of your attention.
Honesty is a two-way street. How upfront someone is at the beginning of any situation can influence the initial emotions of the person on the receiving end, whether that be for good or bad. R&B newcomer Dylan Sinclair has a simple solution for sparing the immediate feelings of him and another person.
"I want to keep it real so that people can keep it real with me. Once you start lying to people, they start lying to you," Sinclair tells Rated R&B on an afternoon in May. 
A healthy level of transparency works when producing art as well. Sinclair invites creative advice from his peers on new directions to take his music and sound. His focus track, "Open," is a stylistic crossover of familiar and current yearning R&B, where he petitions for transparency from his partner.
Unsure if he could pull off a sound with broader horizons, Sinclair strived to balance his discography by conceding to constructive criticism from those in his circle. He does not tune in to just anyone, only those he respects as tastemakers. "I just love having fun and exploring musically," Sinclair declares. 
Sinclair's trust in others' musical taste started in Thornhill, Ontario, a suburban area of Markham where he was raised. Deemed unimaginative, living in the outskirts did not spur his involvement in music. Instead, his talents were noticed and developed at church.
Sinclair began singing as early as he could remember, appearing in the youth choir before advancing to a solo once a month. He practiced on Friday evenings ahead of sharing the spotlight on Saturday alongside his grandfather, who'd play guitar as he amazed the congregation. 
His songwriting followed after dealing with heartbreak in high school. As he sharpens his skills, he remains inspired by artists such as Daniel Caesar, SZA and Frank Ocean. "I work on my writing as much as I can," Sinclair says. "I want to be articulate and communicate my words as best as I can, like how words and melodies tie into each other." 
Beyond the church being the catalyst for music development, it was also the place he strengthened his personal connection with his higher power.
Although he does not attend church as much as he did, he maintains a connection with God necessary at first light. "I make sure that I talk to God every morning. That's the most important thing for me," he shares.
"Without that opening conversation with God and time with yourself, even in the morning, it's just hard to get through the day." 
The faith-based project title and song names of his 2020 project, Proverb, can be linked to his religious upbringing. But his latest project, No Longer in the Suburbs, takes a fresh yet hard left turn, experimenting with more new-wave R&B.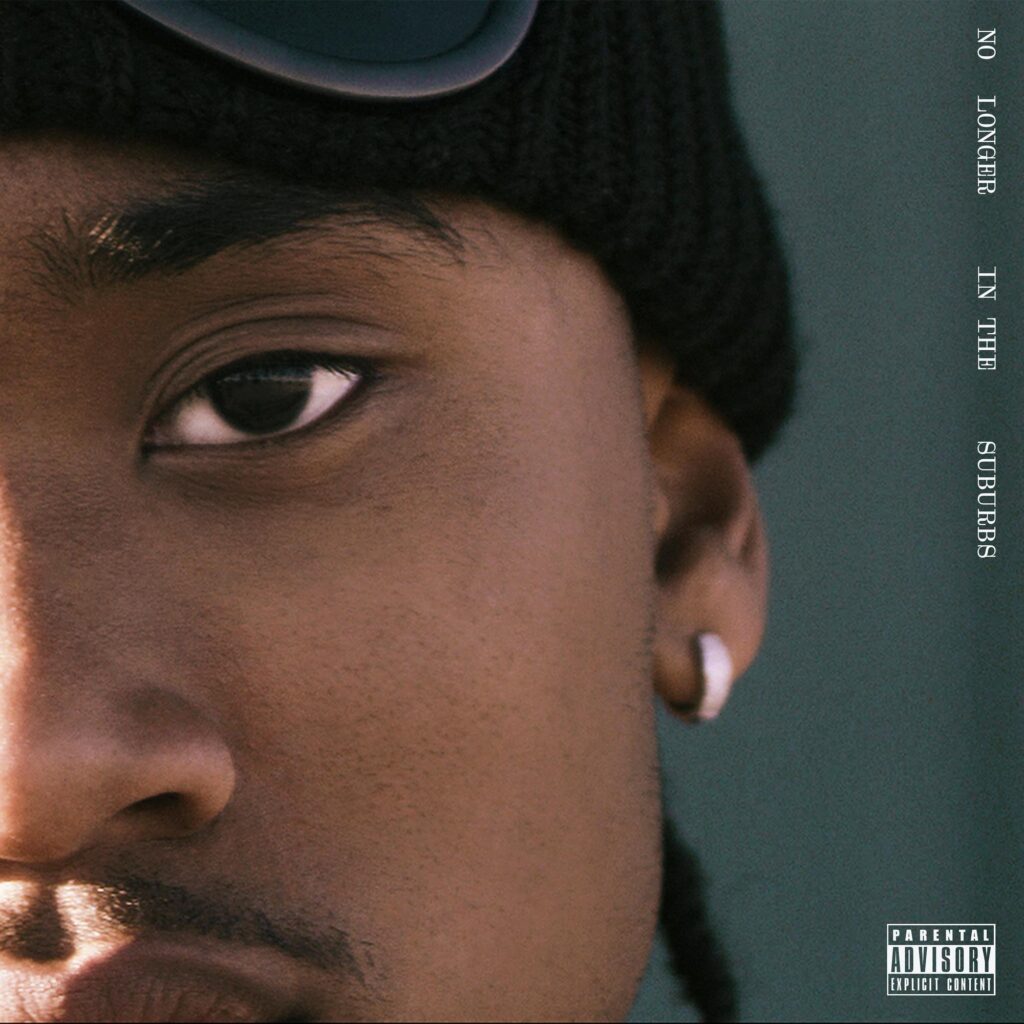 As the Proverb era wound down, Sinclair began work on his third effort, but not without a few false starts. He says, "There were a lot of periods where I'm super inspired, and then it would go away for like two months, and I can't write [or] I'll decide not to. Then I'll go back into it."
At some point, Sinclair and his close-knit team took mini trips, one of which was Los Angeles, an "eye-opening" visit, he said. The changeup in scenery cut out the distractions he left behind at home. 
It also revitalized the way he wrote and chose production. Of course, he partied in L.A. and referenced the charged energy on songs like "I'm in It" and "Open." 
Toronto's backdrop still plays a significant role in No Longer in the Suburbs, where various scenes of maintaining steady love and ambitions to be a good man are recurring. Such songs include the wonderfully progressive "Suppress" and the gloriously probing "Lifetime." 
In Rated R&B's conversation with Sinclair, he dives more into No Longer in the Suburbs, as well as his joy to work with emerging luminaries from Canada.
Considering your songs stem from a personal place, would you be open to singing a song that isn't true to where you are in life? 
It has to be something that makes me feel something. I'm open to something that [is unrelated to me]. It's just gotta reflect somewhere that I may have been before, or I could have seen myself being or just something that I can still relate to or feel in some way. If I don't feel it, then the people won't. It all starts with the initial feeling. If that feeling's not there, it will carry through the release [and] the shows, and it's no good for anyone. 
"I'm in It" examines the insecurities of love that can often arise when trust isn't fully present. It is also where we hear another shift in the EP's tempo, almost a low-key house party special. Where did your inspiration come from for this song? 
Around my trip to L.A. that summer, I was going out more, obviously gaining attention in the city with the music. I had to go through some conversations about making sure I can hold it down essentially. Having to prove that to someone is always challenging because to what extent am I willing to go.
A lot of the time, you want to explain yourself first and make the insecurities known in the relationship so you can at least address and have a real heart to heart about those situations because to move forward, you need two people that are strong, confident, and secure in themselves and each other. 
So for me, the partying showed through the music because it started with the beat. I was with my boy Zach in Fort Erie. We were listening to a lot of old-school Usher. "U Don't Have to Call" was definitely on repeat (laughs). We wanted something [similar to that song] even though it's not the same bounce but still felt like us and kept that same energy.
So that's the direction we ended up still going, where I'm still singing falsetto, but then there's still a lot of crooning and belting because that's something that I feel is missing a bit from R&B music right now: like singers going off on that second hook.
Are you a fan of Kaytranada? I could see him remixing this song. 
Kaytranada is one of my favorite artists out of the country for sure. [He's an] incredible producer. There's a freshness to his music. I'm definitely inspired by it, and I want to bring that same energy to my music. I would definitely love to collaborate with Kaytranada one day. 
On the project's first single, "Suppress," you sing about striving to be a better partner. In what ways have you worked to nurture this part about yourself when it comes to commitment? 
Honestly, I'm trying to grow into being a man. Everyone has their idea of what a man is. But to me, that defines a man — not having a woman necessarily — but being honest and true to whatever you say is to be true. I believe in loyalty. All loyalty begins with yourself. I believe in keeping it real. I don't like keeping things in the dark. I like being very honest and straightforward with whoever in any context. When it comes to being faithful to one woman, especially when there are a lot of options out here, if you find something special and say that you want it, actually stick by that. Not even for anyone's sake but yourself.  
"If You Feel Like Leaving Me" feels like a hard realization and a tough pill to swallow. How have you learned to prepare for the end of a relationship?
It's accepting the pains that come with the great joys. A lot of good things do come to an end. It's happened to me before. I'm okay with accepting whatever's not in my control. You don't want to keep someone in a relationship if they're not happy. The whole idea of love for me is I want to help build someone else to be their best self and have them help build me. That's the core of a relationship to me. If that's not there, then it hurts, but it's not something that you can fake either. 
You recently worked with Savannah Ré on her first collaboration, "Last One." What does this sense of camaraderie within the Toronto music scene mean to you? 
It's special. Savannah's very talented. She wants to grow and push music to another level. I respect [and] appreciate that. People that I'm inspired by are the people that I'm around. It's mostly Savannah Ré and Emanuel, another Toronto artist I collaborated with. I'm very acquainted with them and inspired by their work. I almost find that the energy is contagious.
Seeing the way they work, [from] watching how Emanuel freestyles so well and how Savannah tries different pockets and cadences and takes her songwriting very seriously, it's inspiring. It helps me because I get to see someone gifted in writing and freestyling and being free creatively. All of that helps round out who I am as an artist.
Snippets of an automated voice from a train reaching its destination and a stewardess speaking before a plane lands are placed throughout No Longer in the Suburbs. Where are you hoping to take listeners with this project? 
I went through a big period of growth over the past two years of working on this project. I want people to kind of experience their own [personal growth] from listening to the music. It's very different than my last project. For people that have been following me from then can hopefully see the growth and be inspired by it.
For new listeners, I want people to have a good time listening to my music, either a really good time with songs like "Open" [and] "I'm in It" or a comforting time because I definitely have to sing songs like "Lifetime" and "How Dare I." It's an outlet for me and it's how I express myself. 
Stream Dylan Sinclair's new project No Longer in the Suburbs below.